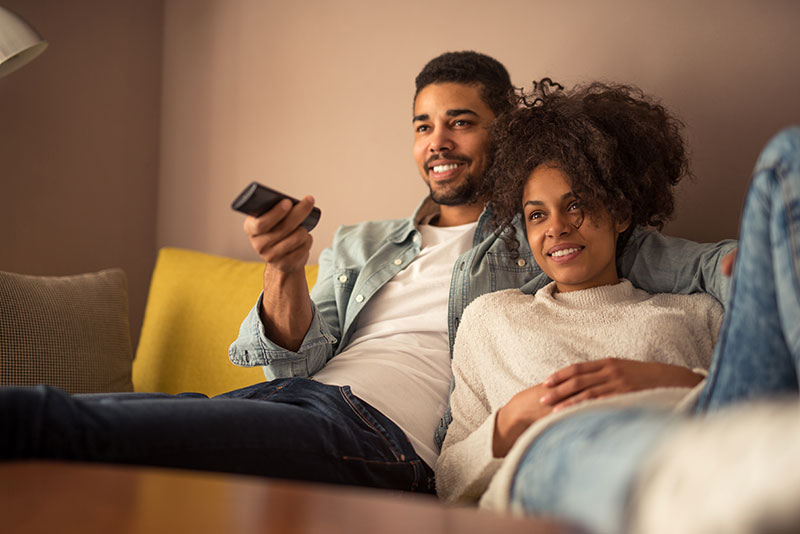 The word 'fiber' is used to reference one thing, but now you hear it a lot more, and it's not referring to what foods people are eating. Instead, it's about fiber-optic internet. This new age of internet connectivity is great, that is, if you actually understand what it all means. However, if tech-lingo isn't second nature to you, fiber-optic internet sounds like another version of the internet you already have.
This leads to the question: what is fiber-optic internet, and why should you care?
What are Fiber-Optics
Before we break down what fiber-optic internet is, let's define what fiber-optics are. Fiber-optics are thin strands of pure glass, roughly around the same diameter as a human hair. Instead of using electricity to carry a signal like traditional internet cables, fiber-optics use light. What makes fiber technology unique is its ability to carry virtually unlimited amounts of information over extremely long distances. In comparison, copper-wire data rates are limited to a minuscule fraction of what fiber can do. Copper wire can only transfer data for a few thousand feet, after which the data rate dramatically slows and eventually ceases to function altogether.
Now that we have a foundation for what fiber-optics are, why do they matter?
Fiber Consumption
Fiber offers many advantages for businesses and the home internet. There are many reasons why fiber is well worth bringing home.
Here's why…
First, greater capacity. Homeowners today are using technologies that require more bandwidth. Bandwidth is the amount of information carried over a network in a specific amount of time. The more users and devices on your bandwidth the less there is to go around, slowing everything down.
Imagine bandwidth is a freeway, and every device and person is a car. When there is an excess of users and devices trying to stream and send data it can back up the bandwidth freeway. Essentially, it's like a traffic jam for your internet.
Fiber-optics, on the other hand, can easily accommodate and keep up with the growing demand for high quantities of data and faster speeds.
Second, greater reliability. Fiber is immune to temperature changes, severe weather and moisture. All of which can hamper the connectivity of copper cable. Plus, fiber does not carry electric current, so it's not disrupted by electromagnetic interference (EMI) that can interrupt data transmission. In other words, the odds of your internet going down when your power is out is not high.
Finally, fiber-optic internet is future-proof. Once installed, upgrades are rarely needed. If there is a need for maintenance it only involves the electronics at the end of the fiber-optics. No need to replace the cable itself.
All-You-Can-Use Data
The previous section covered why having fiber is beneficial. This section is going more in-depth about when fiber-optics are vital for high performing internet that never slows down. As mentioned before, fiber has a greater capacity than traditional copper cables. On top of high speeds and reliable connections, with an internet provider like Beehive Broadband, you can say goodbye to data caps, and hello to smooth streaming.
Ok, but what is a Data Cap?
Data caps are limits imposed by internet service providers that restrict the flow of data through your internet connection, either over a period of time — like a monthly data cap — or by limiting your bandwidth, which affects your internet speed. Sometimes, companies will even limit both.
Because everything you do on the internet uses data, this can have a huge impact on the quality and reliability of your internet service.
Now, let's say your water company put a limit on how much water you could use. For a flat fee, you could use 10 gallons a month. If you used any more than that, they would charge you an extra fee. That's how monthly data caps work.
If your internet service company wanted to limit your bandwidth, that would be like the water company slowing down the flow from your hose. You turn it on, but instead of a powerful flow, you get a trickle.
Data caps limit how and when you can use your internet service. And while they're sometimes used to prevent outages and overloads, often they're used simply as an excuse to charge more for services.
Every device you connect to your internet service — computers, smartphones, TVs, game consoles, smart home devices, and more — uses data. If a company is placing monthly caps or slowing your data down, it affects how well your devices work.
With Beehive Broadband's fiber internet, there are no data caps, which means you aren't charged for overages and you won't be arbitrarily slowed down. You'll never be restricted in how or when you use your internet connection, giving you the freedom to do what you want online.
To sum it up, fiber and Beehive Broadband are going to keep your internet running for decades to come. For more information or to get fiber-optic internet from Beehive Broadband, check out our internet service page or call us at 844-390-3310.
Areas we serve.
Utah
Brigham City, Bullfrog, Caineville, Callao, Cedar Highlands, Centerville, Clearfield, Erda, Eskdale, Gandy, Garrison, Gold Hill, Grantsville, Grouse Creek, Ibapah, Kolob, Lake Point, Layton, Lindon, Lofgreen, Lucin, Lynn, Midvale, Morgan, Mountain Green, Murray, Notom, Orem, Park City, Park Valley, Partoun, Payson, Perry, Pleasant Grove, Providence, Rush Valley, SLC(Avenues), Snowville, Stansbury, Stockton, Terra, Ticaboo, Tooele, Tremonton, Trout Creek, Vernon, Wendover, West Point, West Valley City, Woodland Hills
Nevada
Burbank, Elko, Marys River, Oasis, Pilot Valley, Pleasant Valley, Wells, West Wendover