Improved
High-Definition Television
Watch your favorite channels at any time through BEEtv. Enjoy shows in real time or use the DVR cloud service to save them and watch anywhere later.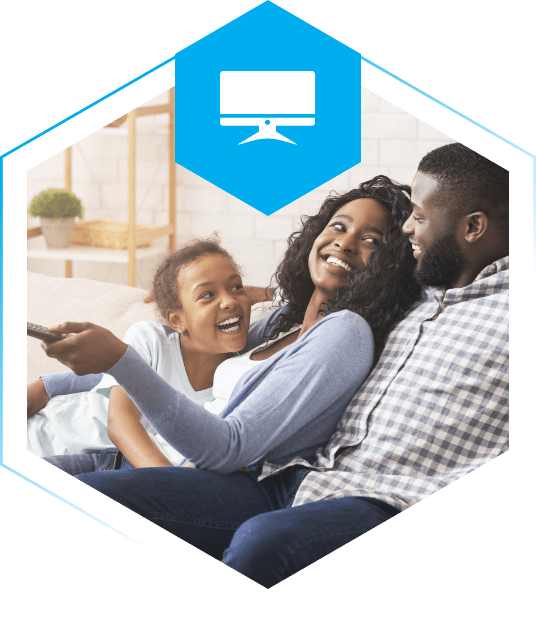 BEEHIVE BEEtv
BEEHIVE BEEtv from Beehive Broadband is the future of television entertainment. It's the latest type of TV provider and a game-changer for high-definition television.
With BEEHIVE BEEtv enjoy access to all your favorite channels on any compatible streaming platform. Add a channel package to your account to watch television on any compatible streaming device. Simply download the BEEHIVE BEEtv app after you've updated your plan. See your favorite shows as they air live or use the app's cloud storage to DVR episodes and then watch later. It's the perfect addition to accompany your Beehive Broadband fiber internet.
Don't have Beehive Broadbands' fiber-optic internet? Check to see if Beehive Broadband is available in your area.
BEEHIVE BEEtv is compatible with a wide range of devices including iOS, Android, Amazon Firestick, KAON Box and more! Check out our list of compatible devices.
Get BEEHIVE BEEtv
Learn more about our BEEHIVE BEEtv channel line-ups and features to find the right one for you.
Watch TV Everywhere
Access your favorite channels included in your package through Watch TV Everywhere (wTVE). Learn how BEEtv gives you more with wTVE.
Have a question or concern?
Give us a buzz!
Contact Us
Areas we serve.
Utah
Bothwell, Brigham City, Bullfrog, Caineville, Callao, Cedar Highlands, Centerville, Clearfield, Enterprise, Erda, Eskdale, Gandy, Garrison, Gold Hill, Grantsville, Grouse Creek, Ibapah, Kelton, Kolob, Lake Point, Layton, Lehi, Lindon, Lofgreen, Lucin, Lynn, Marble Hill, Mantua, Midvale, Morgan, Mountain Green, Murray, Notom, Orem, Park City, Park Valley, Partoun, Payson, Perry, Petersen, Penrose, Pleasant Grove, Porterville, Providence, Rush Valley, Sandy Ranch, Skull Valley, SLC(Avenues), Snake Valley, Snowville, Stansbury, Stockton, Terra, Thatcher, Ticaboo, Tooele, Tremonton, Trout Creek, Vernon, Wendover, West Point, West Valley City, Woodland Hills
Nevada
Burbank, Deeth, Elko, Goshute, Independence, Marys River, Montello, Moor, Oasis, Pilot Valley, Pleasant Valley, Wells, West Wendover